Welcome to the world of funky rock 'n' roll artist Mutherpluckin' B. Here you'll find my cover versions of music from video games, mostly the 8-bit Nintendo console, arranged and played on guitars, bass, keyboards, drums and anything laying around the house. I'm inspired mostly by classic '70s rock and funk, and I always strive to make my music dirty, funky and retro sounding.
I currently have three CDs out, entitled "8-Bit Democracy", "Nintendosploitation", and "Sex, Drugs and Nintendo". So go ahead and download or buy my records and feel free to comment as you like.
— Mutherpluckin' B
Proceed directly to the music >>
News

Subscribe to my RSS feed

26 October 2012:
Killed by Koopa debut album out now
My band Killed by Koopa have released our first album, called Stage One. Listen and buy at
our Bandcamp page
(or via
killed-by-koopa.com
).
24 June 2012:
New Mutherpluckin' B track featured in Nubuwo summer bundle
I have recorded a great new cover of the Volcano Man song from the excellent Rokko Chan game, a Japanese Mega Man pastische playable for free online. The song is part of the
Nubuwo Summer Bundle
, a fantastic big collection of music from some of the world's best VGM artists, including the entire Rokko Chan soundtrack.
27 March 2012:
Mutherpluckin' B now on Spotify and iTunes!
Better late than never! 8-Bit Democracy (Capitalist Edition) can now be
streamed on Spotify
or
purchased on iTunes
. So if ya got Spotify you can now instantly hear the two tracks otherwise unavailable on the free "Socialist" edition.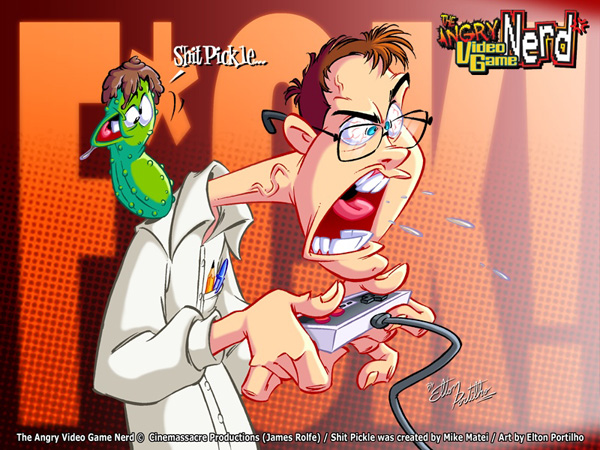 15 December 2011:
Angry Video Game Blues
Finally, my swaggering blues shuffle cover of the
Angry Video Game Nerd
theme song is done! Complete with vocals, bridge, guitar solo, coda and loud screams.
Alt. download link
here
.
Original song written and performed by
Kyle Justin
. Drawing by
Elton Portilho
.
30 November 2011:
New song on Mega Ran 10 album
Random has released his splendid new Mega Ran 10 album, and I'm featured there in a short heavy interlude of Solar Man music. The album is available as download, cd and vinyl! Buy and listen:
Megaran.com
.
15 March 2011:
New song on PPPPPPowerup! compilation
A slick new rock 'n' roll song — one of my best ever — is featured on newly released and absolutely awesome PPPPPPowerup! album, a multi-artist remix version of the soundtrack for the popular online game
VVVVVV
, written by Swedish composer mastermind Magnus "Souleye" Pålsson. Be sure to check it out at its website at
Souleye.se
.
12 October 2010:
Two releases on C64 compilation
A new Mutherpluckin' B song — a retro rockin' remix of the Delta theme — coupled with Unsanxioned Soloing from 8-Bit Democracy, is featured on the
Headphonica
release
Seed64
.
12 June 2010: New song
A new song from Mutherpluckin' B is here – my first ever with vocals. It's a pretty free rock 'n' roll arrangement of a song from a lesser known Sega Master System game: Aleste (Powerstrike). This song was my contribution to a competition at the
SMS Power forum
, though I didn't win this time.
Download mp3 here:
Devastation
.
The lyrics can be read
here
.
25 March 2010:
Two new releases on Iwadon Iwatsuki tribute album
The Hiroyuki "Iwadon" Iwatsuki tribute is now out and can be heard at
iwadon.com
. I just listened through it myself, and it's really an awesome collection of songs by some of the most accomplished VGM artists around the globe. It's an honour for me to be featured with two retro rock covers from the NES game Chaos World, entitled
Chaos Behind Black Curtains
and
A Mere Tribute
.
What do you want to hear live?
I've now got a band of musicians who are currently putting together a first live set and we're hoping to do our live debut in Uppsala, Sweden, in December this year or maybe January 2010. Even if you live far away and won't be able to see us unless we go on a world tour, I'll post audio and video recordings of our performances, so you'll definitely be able to follow us.

Now I would love to receive your suggestions for what songs you want us to play! No promises – we'll see what actually works – but we'll consider all your wishes. I might also do studio recordings of your suggestions, who knows.




Comments
Add comment